Sacramento Spinal Cord Injury Lawyers
Personalized Representation In Difficult Cases
After a spinal cord injury, your job is to maximize your recovery without having to worry about legal issues. Let our lawyers at Dreyer Babich Buccola Wood Campora prove the defendant's fault and recover for your losses, so you can focus on your personal needs.
We have assisted seriously injured people from Sacramento, throughout the state of California and across the country for more than three decades. Our work has earned us the trust and respect of other lawyers, judges, expert witnesses, doctors and most important, by our former clients who we have been honored to represent.
See why we have earned the trust of clients across California. Call our Sacramento attorneys today at

(916) 999-9132

for a free consultation.
What to Know Before Filing a Spinal Cord Injury Claim
Our team has been serving clients for over 35 years, which has given us the type of experience necessary to handle spinal cord injury (SCI) cases. Especially when you or a loved one has suffered a catastrophic injury, your claim needs a heightened level of medical and legal care and attention. This is not only because of the extent of your medical needs and expenses, but mostly because of the way such an injury will affect you permanently, in every aspect of your life.
Spinal cord injury patients are rarely able to return to their previous jobs, if they are lucky enough to re-enter the workforce at all. They may struggle to complete simple tasks like basic housework or even be unable to provide for their basic care. These injuries often disrupt every aspect of one's life and require special consideration.
These losses typically deserve the most significant levels of compensation. However, we can almost assure you the at-fault party will not want to pay what they owe. Insurers and company defendants know just how much spinal cord injuries can cost over the course of an individual's lifetime. However, rather than offering you a fair settlement, they will try offering a small amount of compensation—one that will not meet your long-term needs.
Our attorneys will work closely with highly qualified medical experts to determine the size and scope of your losses. We will consult with doctors and life-care experts to fully assess how your injury will affect your present and future life. Then, we will demand to receive compensation on your behalf for:
Past medical expenses
Future medical needs
Rehabilitation/therapy
Lost wages
Lost earning capacity
Mobility aids and accommodations
Household or personal aid
Pain and suffering (past & lifetime)
Mental anguish
Loss of enjoyment of life
Home renovations to make your living space accessible
Finding your path forward after such a serious injury can be difficult. Having adequate compensation to address for future treatment and your life care needs is essential to maximizing the quality of your life. Our team can help you to have the best life possible on your journey into the future.
We Understand the Medicine in Spinal Cord Injury Claims
Spinal cord injury causes paralysis by blocking signals from the brain from reaching parts of the body below the damage. However, the side effects and sequelae of such injuries go beyond what is commonly known. Our attorneys fully understand the impacts of a spinal cord injury, which means we can help you receive compensation for all your losses.
Spinal cord injuries may cause:
Complete or partial paralysis
Dysregulation of internal organs
Abnormal heart rate (arrhythmia)
Difficulty with bladder and bowel control
Chronic pain
Increased risk of pneumonia and respiratory diseases
Increased risk of blood clots
Muscle spasms and/or exaggerated reflexes
Decrease in sexual desire
Depression or other mental health issues
Dysfunction of the autonomic nervous system (responsible for blood pressure, stress responses and body temperature)
Such complications can make it difficult to leave the house and participate in society. Unfortunately, medical knowledge is not yet advanced enough to "cure" most of these conditions. However, you absolutely deserve compensation for the hardship they have introduced into your life. Because our attorneys fully understand how spinal cord injury can cause such complications, we will push for a settlement or verdict that accounts for your very obvious and even very subtle conditions that may plague you for a lifetime.
Extensive Experience Representing Spinal Cord Injury Victims
Our lawyers have an impressive record of successful results, including many for victims of spinal cord injuries. Below are some examples of winning verdicts and settlements from past spinal cord injury cases:
$10.2 Million - Spinal cord injury resulting from bus accident in what became the largest personal injury verdict in Sacramento County for more than 10 years
$7.3 Million - Spinal cord injury resulting from an accident at a construction site
$6.5 Million - Spinal cord injury resulting from a commercial truck accident
$5.24 Million - Spinal cord injury resulting from a fall of a ladder without non-slip coating
$3.17 Million - Spinal cord injury after our client was struck by rushing water from a fire hydrant
$2.3 Million - Spinal cord injury due to substandard training and safety program resulting in ready-mix driver accident
$1.5 Million - Case involving disabled man who suffered a spinal cord injury after a chain reaction accident
$1 Million - Spinal cord injury due to a slip and fall at a shopping center
Get a Free Initial Consultation - You Pay Nothing Unless We Recover for You
Our attorneys are dedicated to helping the injured navigate the legal process during this difficult time. We take an old-school approach to the law: No tricks, no flashy displays, just the evidence and the truth but use cutting edge technologies, when necessary. We are home to skilled litigators who know how to communicate the nuances of a case and present each client's story in a compelling way. This approach has helped us win many verdicts—and convince the defendants in most cases to settle for top dollar, out of court for fear of losing at trial.
We have assisted people suffering from spinal cord injuries including paraplegia, quadriplegia, partial paralysis and traumatic brain injuries (TBI) among others. You can depend on us to provide you with the same personalized service that has helped us deliver justice for clients throughout the country.
Our attorneys work with you one-on-one. We sit down with you to develop a relationship within which we learn the details of your life. We draw on that knowledge to craft unique legal strategies responsive to your needs
Learn more about how we can help you with a spinal cord injury claim during a free initial evaluation. You can call us at
(916) 999-9132

to reach one of our California lawyers, or you can contact us online to schedule a time to speak with an attorney. Real Stories from Real PEople
Hear From Past Clients
"It takes lawyers with this kind of passion for justice, and that truly care about their clients to win in court. They came to feel like family, really looking out for us."

- Susan M.

"The consistent care for my dad and our family means more to me than I can express. You are incredible at what you do and truly have made such a significant and positive impact on our entire family's livelihood."

- Nick W.

"I hope no one ever has to go through what I did, but if they do I highly recommend this law firm. Everyone was very sensitive and helpful with my claim."

- Jackie
The Right Firm Makes A difference
We Have Helped Thousands of Injured Clients Secure Successful Verdicts & Settlements

We Have In-Depth Experience in All Types of Personal Injury and Wrongful Death Claims

Our Team Has Received Numerous Awards and Accolades Including "Best of the Bar", "Consumer Attorney of the Year" and More

You Can Count On Working with Your Own Lawyer and Receiving Prompt Responses to Your Concerns

No Case is Too Large or Too Small for Our Team to Handle

Lawyers, Doctors, Hospitals, Judges and Past Clients Continually Refer Cases to Us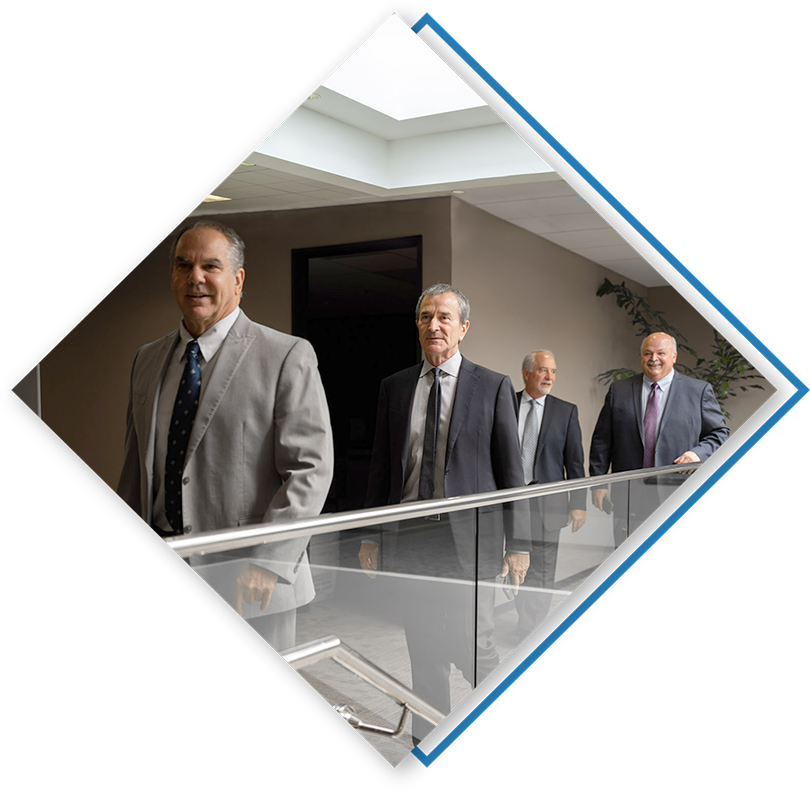 Injury Attorneys Dedicated to Your Recovery
Our team is here to help you seek the maximum amount of compensation available for your injuries. Start with a free consultation.