Sacramento Car Accident Attorneys
Highly Experienced Lawyers for Your Car Crash Case
An auto accident can happen for countless reasons. Maybe the driver was distracted by looking at his phone. Maybe the adverse driver was intoxicated or under the influence of prescription medication. Maybe a car part was manufactured with defects, or maybe the road was poorly designed.
No matter the type of negligence that led to your accident, you can rely on us to provide stellar legal representation.
Our team of car accident attorneys has established a reputation for premier service and exceptional results in Sacramento and nationwide. Our mission is to recover the full amount of money you deserve for your pain and suffering, medical bills, time off work, and other damages.
On This Page:
Call us today at

(916) 999-9132

to get started on your car accident claim or reach out to our firm online. We are here to help you find justice after an injury.
Causes and Liability in Car Accidents
Thousands of car accidents happen every day, and almost all of them are avoidable and caused by human error. Any individual, company, or other organization that causes a car accident can be held liable for all damages suffered by their victims. We start each case by fully investigating the accident to ensure we hold everyone who shares blame accountable. Our attorneys are experienced in handling all types of car accidents, including highly complex crashes.
Common causes of car accidents include:
Distracted driving
Impaired driving
Failure to yield
Unsafe lane changes
Speeding
Reckless driving
Defective auto parts
Holding Negligent Drivers Responsible
Driver distraction, speed, and intoxication are common causes of accidents across the nation. There is no excuse for negligent or reckless behavior behind the wheel. All too often, the at-fault party or their insurance company will deny they acted negligently at the time of the accident. However, by employing methods such as preserving surveillance footage, checking phone and internet activity records, taking witness statements, and retaining qualified experts, our car accident attorneys in Sacramento will gather the evidence necessary to prove the other party's fault.
Commercial Accidents
Whether you were hit by a delivery driver, a semi-truck, or a businessperson driving to a meeting in a company car, obtaining compensation after an accident involving a commercial vehicle involves a unique process. Our attorneys are skilled in prosecuting claims against companies whose employees act negligently and injure others. We will do our part to ensure an employer does not get away with the negligent acts of its employees.
Uber/Lyft and Other Rideshare Accidents
Rideshare vehicles are all over our roads and are just as likely to be in an accident as any other vehicle. However, a driver's personal insurance often does not cover Uber or Lyft rides or other commercial activities such as delivery for GrubHub or UberEats. However, you do have options to recover compensation—so make sure you reach out to a Sacramento auto accident attorney with experience litigating these claims as soon as possible. We are ready to pursue a claim for you against Uber, Lyft, or any other company that employs "gig" drivers.
Defective Autos
Steering components, autopilot, brakes, transmissions, and tires are just some of the parts that can cause a serious accident when they malfunction. Even aspects of the design of the vehicle itself may be dangerous. When an accident happens faulty airbags, seatbelts, and parts of the car frame can fail, leaving drivers and passengers with injuries they should not have experienced. Our attorneys will retain experienced engineers and industry experts to uncover and prove flaws in a vehicle's design or manufacturing and can help you bring a case against the companies that have caused you harm.
Dangerous Road Design or Conditions
Drivers can only do so much when a road is not built to prioritize safety. When collisions are caused by dangerous roadway conditions, their victims may be able to hold a city, county, or state liable for its failure to properly design, construct, and/or maintain roads. Such cases have shorter filing deadlines and other required procedures than does a typical injury claim, so make sure your attorney has experience handling claims against a government entity. Our team at Dreyer Babich Buccola Wood Campora has handled countless cases of this type and looks forward to bringing our experience to advance your cause.
Having an Experienced Accident Lawyer Comes with Many Benefits
By law, you are entitled to recuperate your losses in a car accident from the at-fault party, through that person's insurance—so is a lawyer necessary? If you want to receive full and fair compensation, the answer is almost always a resounding yes.
The most important thing to remember after a car accident is that an insurance adjuster (or any other representative of whoever was at fault) is not on your side. In fact, without a Sacramento car accident lawyer on your case, you have no one to represent your interests. Insurers and adjustment companies try to pay the least amount possible with accident claims because your settlement comes out of their bottom line. However, they know when we're involved that their low-ball strategies won't work.
While saying no to an unfair settlement is easy, negotiating with an adjuster or attorney to get the help you need is difficult for an unrepresented party. Insurance adjusters make a living negotiating settlements, which means they will come into each conversation armed with strategies that can be hard to counter. Our attorneys do not tolerate this gamesmanship and will level the playing field. If you are not represented by someone with experience in these matters, you will likely end up failing to receive the compensation you deserve.
Having a team that the insurance companies know is ready to litigate for you provides you with leverage, which is why you should work with a team of skilled trial lawyers like Dreyer Babich Buccola Wood Campora. Trials are expensive, and insurers often decide that it's in their best interest to pay up rather than spend the money to go to court and risk losing in the process. We are prepared to litigate every claim we take, and defendants know this—insurance companies end up paying all of what they owe not just what they want to pay.
Our Proven Results
Our car accident lawyers in Sacramento have experience handling everything from straightforward rear-end collisions to handling very complex accidents. Here are a few of our firm's auto accident cases:
$70 Million - Wrongful Death Case Against Ford Motor Company
$34.9 Million - Semi-Truck/Trailer Accident Resulting in Paralysis
$17.25 Million - Case Involving Dangerous Road Conditions on a Public Roadway
$10 Million - Trucking Accident
$9.85 Million - Case Involving Dangerous Roadway Conditions
$9.8 Million - Case Involving a Crash into a Bus Stop
$9.1 Million - Motor Vehicle Accident Resulting in Severe Brain Injuries
$9 Million - Motor Vehicle Accident Involving an Erratic Driver
$8.8 Million - Vehicle Rollover Resulting from High Speeds on the Freeway
$7.65 Million - Head-On Accident Case Involving a Drunk Driver
Contact One of Our Experienced Attorneys Today
If you are searching for justice after a car accident, you need a lawyer you can trust. Dreyer Babich Buccola Wood Campora always puts clients first. When you reach out to our firm, you will always talk directly to a lawyer as opposed to a "case manager" or paralegal. Your auto accident lawyer will take the time to get to know you, and then with you, craft a strategy to maximize your recovery. Our team members always fully explain your options and ensure you understand them, so you can make informed case handling decisions that may impact your future.
Get started with your car accident claim today by calling our firm at

(916) 999-9132

or reaching out online. We have been serving clients in Sacramento and throughout California since 1987.
Car Accident FAQ:
How long do you have to file a car accident claim?
In California, you generally have two years from the date of the car accident to file a personal injury claim. However, it's important to consult with an attorney promptly as there are exceptions and shorter deadlines in certain cases.
What kind of damages can you recover in a car accident lawsuit?
In a car accident lawsuit, you may be able to recover various damages, including medical expenses, lost wages, pain and suffering, property damage, and future damages related to your injuries. The specific damages you can recover will depend on the circumstances of your case.
Can there be more than one at-fault party in a car accident?
Yes, there can be more than one at-fault party in a car accident. Multiple parties, including drivers, vehicle owners, employers, or even government entities, can share liability for the accident. Determining fault and liability can be complex, and it's best to consult with an attorney who can assess the specifics of your case and identify all potentially responsible parties. Real Stories from Real PEople
Hear From Past Clients
"THANK YOU to Chris and His Staff"

- Carol C.

"The depth of pain may subside now that I feel justice has been done."

- Mary

"It takes lawyers with this kind of passion for justice, and that truly care about their clients to win in court. They came to feel like family, really looking out for us."

- Susan M.
The Right Firm Makes A difference
We Have Helped Thousands of Injured Clients Secure Successful Verdicts & Settlements

We Have In-Depth Experience in All Types of Personal Injury and Wrongful Death Claims

Our Team Has Received Numerous Awards and Accolades Including "Best of the Bar", "Consumer Attorney of the Year" and More

You Can Count On Working with Your Own Lawyer and Receiving Prompt Responses to Your Concerns

No Case is Too Large or Too Small for Our Team to Handle

Lawyers, Doctors, Hospitals, Judges and Past Clients Continually Refer Cases to Us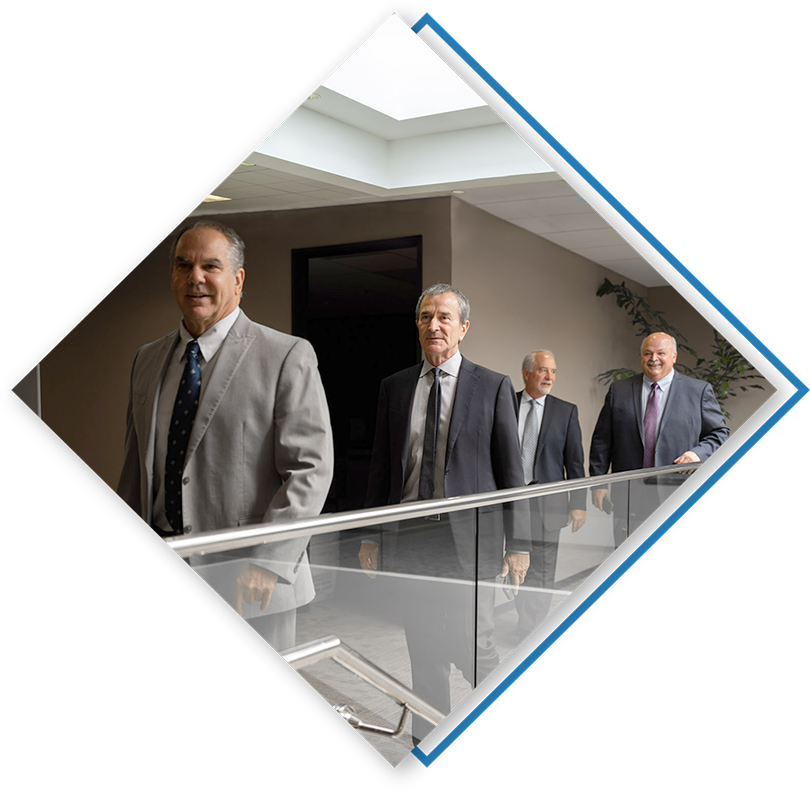 Injury Attorneys Dedicated to Your Recovery
Our team is here to help you seek the maximum amount of compensation available for your injuries. Start with a free consultation.