Sacramento Wrongful Death Attorneys
Caring Representation for Families
Losing a loved one unexpectedly is one of the most difficult of all experiences. The thought that someone else's negligence led to your loss, only magnifies your feelings of pain and sense of wellbeing.
At Dreyer Babich Buccola Wood Campora, we know nothing can fully compensate you for the loss of a family member. No amount of money can take away your grief. However, we can help you pursue maximum compensation to relieve you from the stress of future financial concerns and to provide you with the satisfaction from knowing that the wrongdoer was made to pay. We can also help make changes on a larger scale, so what has happened to you will not happen to anyone else.
Our Sacramento attorneys are personable, caring advocates who will respond to your concerns as they arise. Our mission is to obtain justice for you and hold the at-fault party fully accountable for their actions.
If you are considering a wrongful death claim, we invite you to reach out to our team by calling (916) 999-9132 or sending us a message. Our caring attorneys are here to explain your options and help you get started.
Who Can File a Wrongful Death Claim?
When negligence causes the death of an innocent victim, the decedent's survivors have standing to file a wrongful death case. However, in most states, there are restrictions on who can sue. California allows wrongful death suits from:
A spouse or domestic partner
Children
Grandchildren (if the decedent's children are all deceased)
Those who were financially assisted by the decedent
In some circumstances:
A "putative spouse"
Stepchildren
Parents
Legal guardians
And Others
Each state has different rules regarding who can bring a wrongful death claim, so depending on where you are, your rights may vary. We can help you understand the laws that will affect you and determine whether you are eligible to bring a case.
What's the Difference Between Wrongful Death Claims and Survival Actions?
A wrongful death claim allows you to recover compensation for losses you have or will face, due to the death of your loved one, but in some states, these claims do not cover damages accrued before death, such as hospital bills or the decedent's pre-death pain and suffering. California is one such state in which the survivors of the decedent must file both a wrongful death claim and a survival action to fully recover for their losses.
Wrongful Death Claims Should Fully Address the Heir's Losses
Losing is a loved one has significant costs both, monetarily and emotionally. The goal of pursuing a wrongful death claim is to "make whole" the survivors of the decedent. They address damages like:
Funeral and burial expenses
Loss of past and future wages and benefits that have been earned by the decedent
Loss of retirement benefits
Loss of inheritance
Loss of services
Loss of love, companionship, comfort, care, and more
Loss of consortium
Survival Actions "Survive" the Decedent
A survival action, on the other hand, is meant to address the damages the decedent suffered before their death. They are often brought by a representative of the decedent's estate, regardless of whether that person is directly related to the decedent.
If your loved one was injured and hospitalized for a significant period before passing away, the damages recoverable through a survival action may be significant. If they passed away at the scene of the accident, the decedent's estate may only have limited rights to bring a survival action. After hearing what happened, our attorneys can help you understand your rights and recommend a particular litigation strategy.
Damages recoverable in survival actions are:
Medical bills
Property damage
A decedent's pre-death pain and suffering
We Have An Unequaled Reputation For Winning Justice And Maximum Compensation
We have represented hundreds of families throughout California and even nationwide in wrongful death cases. Here are only a few of the multimillion-dollar case results we have obtained:
$70 Million - This action involved a trial against Ford Motor Company for the wrongful death of a 45-year-old man, after a defective tire caused a rollover accident.
$19.2 Million - This case involved a faulty tire repair resulting in wrongful death. This verdict is the largest compensatory damage verdict ever in San Diego County.
$16.6 Million - This case involved the highly publicized death of a 28-year-old mother who participated in a contest resulting in the decedent consuming a large quantity of water that ultimately resulted in significant brain hemorrhaging and her death.
$14 Million - Two boys died after jumping into a water canal in an attempt to rescue a dog. As the boys climbed out of the canal, they grasped an energized metal railing and were electrocuted.
$6.7 Million - Plaintiff was on a motorcycle and was killed when the defendant driver, an employee of Sacramento Rendering Company, pulled out in front of him.
$6.7 Million - A 60-meter meteorological evaluation tower (MET) that had been erected in April 2009 took the life of well-known and respected Northern California agricultural aviator Steve Allen.
$6.5 Million - This was a wrongful death case involving a 33-year-old off-duty sheriff's deputy on his way to work.
$6 Million – Truck turned left in front of oncoming motorcyclist who was killed and initially blamed for driving too fast.
$5.5 Million - This action dealt with a marine/boating incident where a shuttle boat pulled away before our client was able to get onto the shuttle, causing her to fall between the two vessels.
Confidential Settlement – This wrongful death case was against Polaris for a young woman who died of her burns.
We Can Help You Plan Your Next Steps
For clear, honest counsel about your family's legal options after the death of a loved one, call our lawyers. We offer caring guidance backed by thorough explanations of your rights. Deciding how to proceed after a loved one's death is difficult, and we do what we can to make handling the legal aspects as pain-free as possible.
For over 35 years, our caring attorneys have helped people like you fight for justice after losing a loved one. When you need us, we are here.
Call Dreyer Babich Buccola Wood Campora at (916) 999-9132 or reach out online to schedule a free consultation with one of our attorneys. We represent families in Sacramento and beyond. Real Stories from Real PEople
Hear From Past Clients
"It takes lawyers with this kind of passion for justice, and that truly care about their clients to win in court. They came to feel like family, really looking out for us."

- Susan M.

"The consistent care for my dad and our family means more to me than I can express. You are incredible at what you do and truly have made such a significant and positive impact on our entire family's livelihood."

- Nick W.

"I hope no one ever has to go through what I did, but if they do I highly recommend this law firm. Everyone was very sensitive and helpful with my claim."

- Jackie
The Right Firm Makes A difference
We Have Helped Thousands of Injured Clients Secure Successful Verdicts & Settlements

We Have In-Depth Experience in All Types of Personal Injury and Wrongful Death Claims

Our Team Has Received Numerous Awards and Accolades Including "Best of the Bar", "Consumer Attorney of the Year" and More

You Can Count On Working with Your Own Lawyer and Receiving Prompt Responses to Your Concerns

No Case is Too Large or Too Small for Our Team to Handle

Lawyers, Doctors, Hospitals, Judges and Past Clients Continually Refer Cases to Us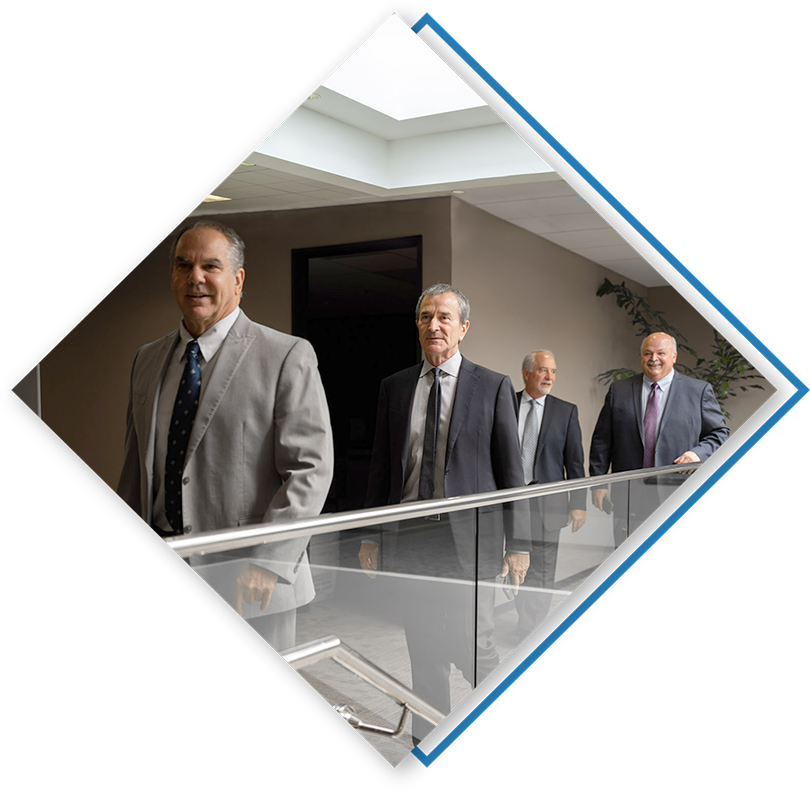 Injury Attorneys Dedicated to Your Recovery
Our team is here to help you seek the maximum amount of compensation available for your injuries. Start with a free consultation.