Boating Accident Lawyers in Sacramento
Helping the Victims of Boat Collisions and Other Catastrophes
Boating is one of the most enjoyable recreational activities in California. Unfortunately, the negligence of others can sometimes turn a relaxing activity into a tragic incident.
At Dreyer Babich Buccola Wood Campora, we provide vigorous and effective representation to those injured on speedboats, ferries, personal watercraft (such as Jet Skis), and other aquatic vehicles. Our lawyers are skilled in the extensive investigations that these cases entail.
Call our Sacramento office at

(916) 999-9132

or can send us a message to schedule a free consultation. We want to help you find justice after a boating accident.
WHY BOAT-RELATED INJURIES REQUIRE A SPECIAL SKILL SET AND EXPERIENCE
According to the U.S. Coast Guard's 2020 Boating Safety Statistics Report, boating accidents in California increased 52% from 2019 to 2020, a single year. This is in keeping with similar increases nationwide.
Boating fatalities increased 25.1% nationwide during that same timeframe. In California alone, 39 people died in boating incidents in that one-year period.
Injuries arising from the operation of aquatic vessels can happen for many reasons. While many are due to operator error, others are caused by defects in the vessel itself. Also, the location of the incident has a direct bearing on what laws apply. When the incident occurs on what is regarded as a navigable waterway, the negligent boat operator can shelter under federal maritime law , which has its own rules, regulations, and immunities.
Whatever the location or cause, we have extensive experience working with clients who were injured or lost a loved one in a water vessel-related incident. To learn more about how our experience pertains to your case, please reach out for a free consultation. Our firm is prepared to help with claims involving:
BOAT DEFECTS, FIRES AND EXPLOSIONS
Like automobiles, a boat must be carefully designed, manufactured, and maintained so it does not catastrophically fail while in use. But unlike automobiles, safe boating or water vessel design must anticipate that a product defect can leave injured people stranded in the water, sometimes far from shore. The boat manufacturing industry itself is largely unregulated by state or federal law. There are no minimum federal or state safety standards that manufacturers must meet in the design or manufacture of boats. Instead, the industry has formed various voluntary organizations to establish and self-regulate standards. The decision makers about those standards are typically top executives of the companies that manufacture the products to be regulated. The industry makes its own safety standards without any oversight by federal or state law. This sometimes leads to disastrous results.
The makers of boats and other personal watercraft can be held accountable for design or manufacturing defects in their products that cause harm to human beings. Prosecuting a lawsuit against these large and well-financed manufacturers requires a legal team with the experience, resources, and drive to win. Dreyer Babich Buccola Wood Campora not only has everything necessary to bring such cases, but the track record to prove we know what we are doing in this arena.
NEGLIGENT BOAT DRIVER INCIDENTS
According to the American Boating Association, alcohol use by the vessel's operator is the leading known contributing factor in fatal boating accidents, listed as the primary cause of such events nearly 20% of the time. Not surprisingly, 77% of those deaths occurred on boats where the operator did not receive boating safety instruction.
Sadly, not all states require that boating operators must complete any form of boating safety instruction. Even in states that have such requirements, enforcement is difficult since boaters can still purchase boats and operate them without first obtaining a boating license, and law enforcement resources for the boating public are scant.
Also, the general public views boating as a recreational activity, often accompanied by alcohol use and a party atmosphere. This lack of focus on safety by untrained and often inexperienced boaters, along with the kind of distraction, high speed, and drunk driving that are too often part of the boating experience, inevitably leads to injuries and death for those on board. If you were injured by a careless boat operator, we can help you hold that person accountable. Piloting a boat is a responsibility that must be taken seriously. Our attorneys can help reinforce this message for those who do not do their part to keep everyone safe.
WHY DEFECTS IN BOAT DESIGN AND MANUFACTURE ARE TOO OFTEN THE CAUSE OF INJURIES OR DEATH
Because the manufacturers of boats and other recreational water vessels are not well-regulated by the federal (or state) government, their commitment to design and manufacturing safety is only subject to whatever self-regulating standards they choose to apply. Unfortunately, this lack of regulation means that the testing of new product design is sloppy, and dangerous errors in the manufacturing process are made.
At Dreyer Babich Buccola Wood Campora, we have taken such manufacturers to task in lawsuits that have shined a light on dangerous design and testing practices, unveiled obvious defects that the manufacturer ignored, and held them accountable for serious injuries to our clients. This process is tedious as the boating industry is well-prepared to defend itself against such claims.
Our attorneys know how to handle design defect cases that involve water vessels. They don't stop looking for causation until all the facts are in. This is the team you want on your side when a defect in boat design or manufacture may be the cause of the harm that you or a loved one has suffered.
EXAMPLES OF OUR SUCCESS IN BOATING CASES
Here are a few of the cases that Dreyer Babich Buccola Wood Campora has handled:
Woman injured due to defective boat design — A 27-year-old woman suffered catastrophic injuries to her face, head, and brain when she was swept off a boat and into the propeller. During the 49-day trial, the trial team was able to prove that the X-45 wakeboard boat designed, built, and distributed by MasterCraft had a design defect that caused the front of the boat to sink, casting passengers overboard. A Butte County jury awarded our client $30.9 million in damages.
Woman crushed between two boats — Lauralee Lindblad was just stepping from her houseboat onto a water taxi shuttle owned and operated by the Lake Oroville marina when the inattentive driver pulled away, causing her to fall into the water between her houseboat and the shuttle. Her husband grabbed Lauralee to keep her from drowning, but the panicked shuttle driver mishandled the controls, and rammed the shuttle into the houseboat, pinning Lauralee. She passed away from those injuries. Our trial team obtained a $5.5 million settlement for the family.
If you or a loved one has been injured in a boating incident, call us now for a free consultation.
We serve boating accident victims nationwide, so don't hesitate to call us at
(916) 999-9132

for a free consultation. You can also reach our office by email. Our Sacramento team is here for you. Real Stories from Real PEople
Hear From Past Clients
"It takes lawyers with this kind of passion for justice, and that truly care about their clients to win in court. They came to feel like family, really looking out for us."

- Susan M.

"The consistent care for my dad and our family means more to me than I can express. You are incredible at what you do and truly have made such a significant and positive impact on our entire family's livelihood."

- Nick W.

"I hope no one ever has to go through what I did, but if they do I highly recommend this law firm. Everyone was very sensitive and helpful with my claim."

- Jackie
The Right Firm Makes A difference
We Have Helped Thousands of Injured Clients Secure Successful Verdicts & Settlements

We Have In-Depth Experience in All Types of Personal Injury and Wrongful Death Claims

Our Team Has Received Numerous Awards and Accolades Including "Best of the Bar", "Consumer Attorney of the Year" and More

You Can Count On Working with Your Own Lawyer and Receiving Prompt Responses to Your Concerns

No Case is Too Large or Too Small for Our Team to Handle

Lawyers, Doctors, Hospitals, Judges and Past Clients Continually Refer Cases to Us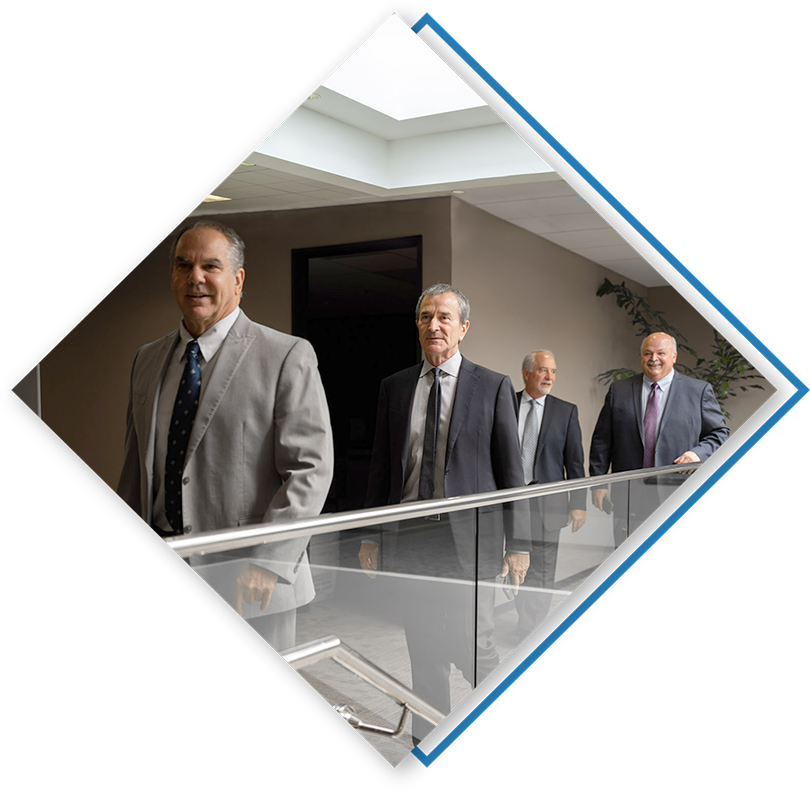 Injury Attorneys Dedicated to Your Recovery
Our team is here to help you seek the maximum amount of compensation available for your injuries. Start with a free consultation.