Sacramento Premises Liability Lawyers
We've Helped Thousands Of Clients Attain Justice
THE PERSON WHO FALLS IS NOT ALWAYS TO BLAME
If you slip or trip in a store, the store's owners will blame you. Even when there was obviously a hazard that caused the fall, defendants will continue to insist you are to blame.
Our lawyers have seen it all. Defendants will hide evidence, video surveillance film that captured the trip/fall event will disappear, and Defendants will refuse to produce the statements of independent witnesses or a copy of any incident report that the injured person completed.
OUR ATTORNEYS KNOW PREMISES LIABILITY LAW
Every owner of a store, restaurant, amusement park, hotel, airport, shopping center, apartment, private residence, or any other physical building or facility has a non-delegable duty to maintain that facility in a reasonably safe condition. They have a duty to inspect those premises on a regular basis to identify and correct, or warn about, hazards. Because that duty is non-delegable, the owner cannot shift their responsibility to anyone else. Knowing and understanding the broad application of this law in California is just one of the reasons that our attorneys have built such a strong record of success in premises liability cases.
At Dreyer Babich Buccola Wood Campora, we have built a premier legal practice committed to the needs of injured clients not only in the Sacramento area, but throughout the state of California and the country. We are the firm of choice for many other lawyers, doctors, and judges who refer their injured friends and loved ones to us, knowing we will provide them with the level of care they would expect for themselves.
Premises liability claims are an important component of the firm's personal injury practice. Call us today if you have suffered harm after falling in a public or private facility of any kind.
Our office can assist when you have been injured as a result of:
Unsafe parking ramp conditions
Icy walkways
Slip and fall in a restaurant, supermarket, or any public or private building
Dangerous property conditions
Dog bites
Contact Our Sacramento Office Today
We have purposely structured our firm to maximize our accessibility to you. You do not merely get processed by an assistant without ever meeting your attorney. Instead, our attorneys take pride in the relationships they build with our clients, getting to know them so we can provide each client with legal representation directly responsive to their unique circumstances. It is in those details that cases are won and compensation is maximized.
We invite you to schedule a free initial consultation with us. Call us at

(916) 999-9132

to reach one of our conveniently located California offices or send us a message. Real Stories from Real PEople
Hear From Past Clients
"It takes lawyers with this kind of passion for justice, and that truly care about their clients to win in court. They came to feel like family, really looking out for us."

- Susan M.

"The consistent care for my dad and our family means more to me than I can express. You are incredible at what you do and truly have made such a significant and positive impact on our entire family's livelihood."

- Nick W.

"I hope no one ever has to go through what I did, but if they do I highly recommend this law firm. Everyone was very sensitive and helpful with my claim."

- Jackie
The Right Firm Makes A difference
We Have Helped Thousands of Injured Clients Secure Successful Verdicts & Settlements

We Have In-Depth Experience in All Types of Personal Injury and Wrongful Death Claims

Our Team Has Received Numerous Awards and Accolades Including "Best of the Bar", "Consumer Attorney of the Year" and More

You Can Count On Working with Your Own Lawyer and Receiving Prompt Responses to Your Concerns

No Case is Too Large or Too Small for Our Team to Handle

Lawyers, Doctors, Hospitals, Judges and Past Clients Continually Refer Cases to Us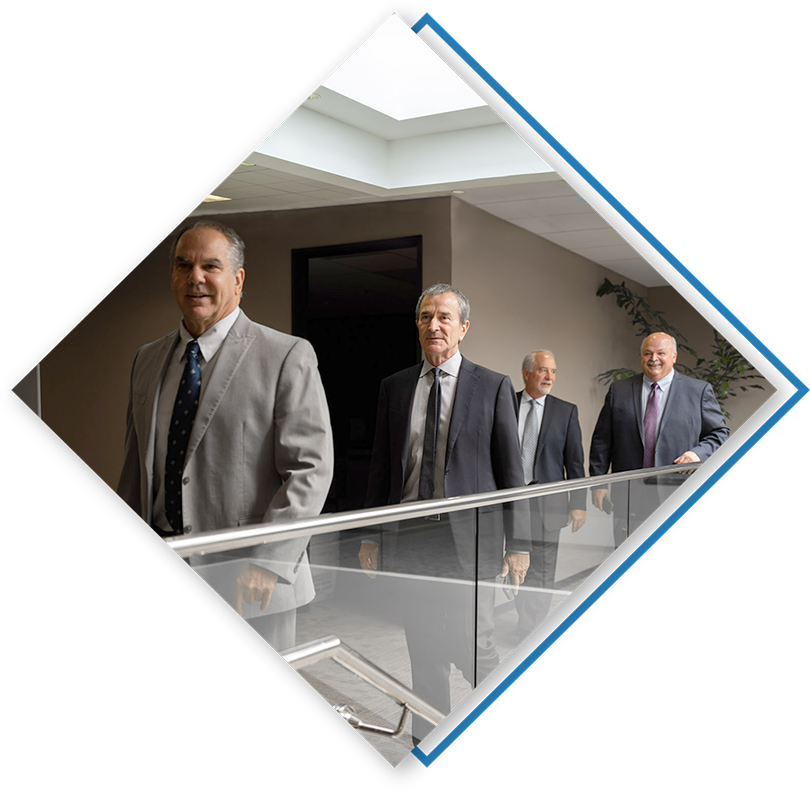 Injury Attorneys Dedicated to Your Recovery
Our team is here to help you seek the maximum amount of compensation available for your injuries. Start with a free consultation.