Sacramento Bus Accident Lawyers
Serving Bus and Transport Accident Victims Nationwide
In a contest between a bus and a pedestrian, the bus always wins. Even in a collision with another vehicle, the bus's massive weight and size typically causes serious damage to the adverse vehicle. Even unrestrained bus occupants can suffer serious injuries.
At Dreyer Babich Buccola Wood Campora in Northern California, we understand the far-reaching effects a bus accident can have on a person's life. Over the past three decades, our attorneys have represented numerous individuals and families nationwide in cases involving common carriers, school buses, church buses and other commercial vehicles.
Our lawyers' litigation skill and respected reputation—combined with our dedication to responsive, personalized service—have earned our trust from many victims throughout the State and even Nation. You can count on us to pursue the very best results for you and those you love.
We Have Helped Thousands of Accident Victims
Often, bus companies and public transit agencies hide or withhold evidence that can be used against them. With our many years of experience in prosecuting these cases, we know what to look for and how to find the evidence necessary for you to prevail.
Here are just a few of the cases we have handled over the years:
$34.9 Million - Semi-Truck/Trailer Accident Resulting in Paralysis
$10.2 Million - Bus Accident Involving a Slow-Moving Bus Obscured by Diesel Smoke
$5.2 Million - Accident Involving a Pedestrian Hit by a Bus While Crossing the Street
$4.6 Million - Pedestrian Accident Involving a Family Hit by a Bus in a Crosswalk
$2.4 Million - Bus Accident Resulting in Wrongful Death
$500 Thousand - Bus Accident Resulting in Injuries to a Cyclist
$415 Thousand - Bus Accident Resulting in Injuries to a Cyclist
Confidential Settlement - Accident Involving Dozens of Hotel Employees Whose Bus Operator Fell Asleep at the Wheel
Get The Specialized Legal Guidance You Need
We invite you to learn more about how we can help your bus accident claim by calling our office at (916) 999-9132. The consultation is absolutely free. We are proud to serve clients in Sacramento, throughout California, and across the U.S.
Reach out today for a free consultation with our Sacramento bus accident attorneys. Real Stories from Real PEople
Hear From Past Clients
"It takes lawyers with this kind of passion for justice, and that truly care about their clients to win in court. They came to feel like family, really looking out for us."

- Susan M.

"The consistent care for my dad and our family means more to me than I can express. You are incredible at what you do and truly have made such a significant and positive impact on our entire family's livelihood."

- Nick W.

"I hope no one ever has to go through what I did, but if they do I highly recommend this law firm. Everyone was very sensitive and helpful with my claim."

- Jackie
The Right Firm Makes A difference
We Have Helped Thousands of Injured Clients Secure Successful Verdicts & Settlements

We Have In-Depth Experience in All Types of Personal Injury and Wrongful Death Claims

Our Team Has Received Numerous Awards and Accolades Including "Best of the Bar", "Consumer Attorney of the Year" and More

You Can Count On Working with Your Own Lawyer and Receiving Prompt Responses to Your Concerns

No Case is Too Large or Too Small for Our Team to Handle

Lawyers, Doctors, Hospitals, Judges and Past Clients Continually Refer Cases to Us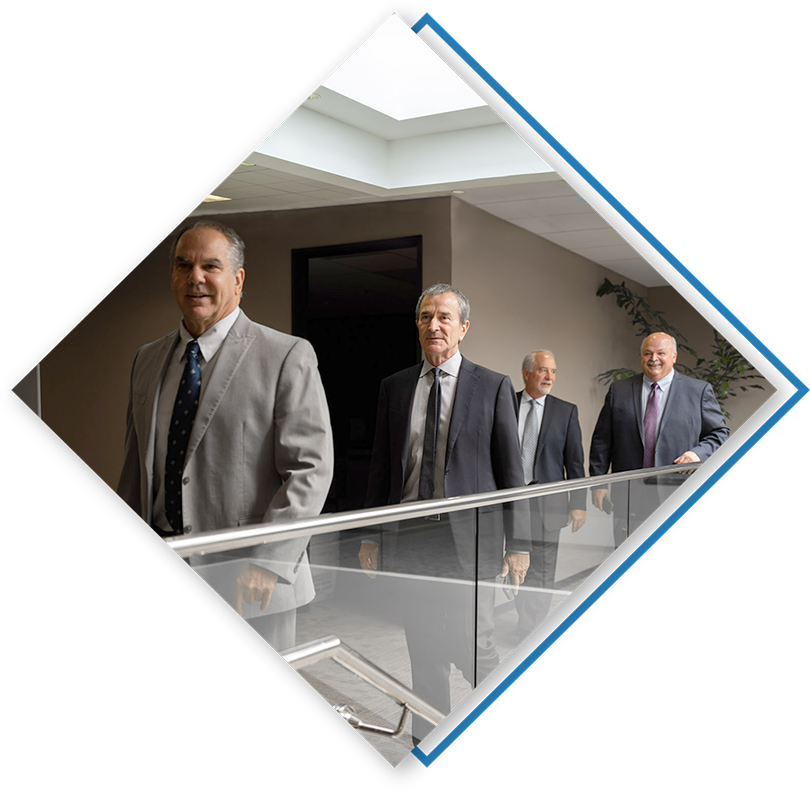 Injury Attorneys Dedicated to Your Recovery
Our team is here to help you seek the maximum amount of compensation available for your injuries. Start with a free consultation.