Roger Dreyer, one of the firm's founding partners, was recently honored by the Consumer Attorneys of California with the prestigious Robert E. Cartwright, Sr. Award. The award is given by the CAOC in recognition of excellence in trial advocacy and dedication to teaching trial advocacy to fellow lawyers and to the public.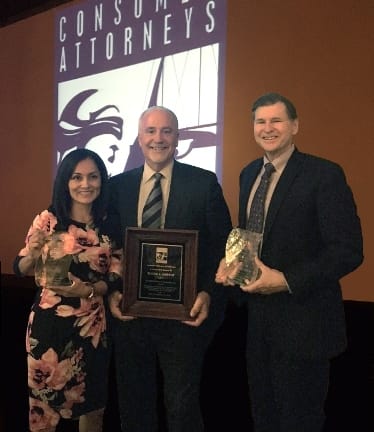 Nationally recognized for his success and abilities as a trial lawyer, Roger has tried more than 150 personal injury and wrongful death cases, and has achieved record-breaking verdicts in many cases that have drawn national attention, including cases against Ford Motor Company, Mastercraft Boat Company and Entercom Radio.
The Robert E. Cartwright, Sr. Award specifically recognizes attorneys who have demonstrated an ongoing commitment not only to trying cases, but to mentoring and educating other attorneys in trial advocacy. Roger has been involved with CAOC's continuing education programs for nearly three decades and is a favorite and much sought-after speaker on trial arts. He has addressed thousands of lawyers and mentored dozens of attorneys throughout his more than 30 years of practice.
CAOC presented Mr. Dreyer with the 2016 Robert E. Cartwright, Sr. Award at the Installation and Awards Dinner held at the Palace Hotel Saturday, November 12, during CAOC's annual convention in San Francisco. Nearly 800 lawyers, legislators and staff attended the event. During his acceptance speech, Roger stressed the ongoing duty that trial lawyers have not only to hone their skills, but to pass those skills along to others through teaching, mentoring and by way of example.